Yateley Sport Community Interest Company was established in April 2011 with the aim of improving sports facilities in Yateley, Hampshire, based around Yateley United FC. Its main goal is raising funds, via events such as GIG ON THE GREEN YATELEY, the BLACKWATER CASK & CORK FESTIVAL and the YATELEY SAUSAGE AND CIDER FEST together with help from grant aid bodies, to raise £1.5M for the development of a Community Sports and Wellness Centre at Sean Devereux Park, Yateley. All of our festivals are organised by dedicated teams of volunteers.
The Yateley Sports CIC is a not-for-profit organisation run by a group of local volunteers. The Directors of Yateley Sports CIC are: Colin Ive (Chairman), Don Cleeve, Dave Chandler (Secretary), Janet Randall, Mike Gray and Richard Pascoe.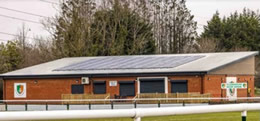 Yateley United Community Centre
Opened October 2022. Read more »
Sean Devereux Park, Yateley.
April 2014 - Members of Yateley Sports CIC team celebrate the purchase of Sean Devereux Park. Read more »